TOKYO, JAPAN
Keisen Associates
Waterras Annex, Suite #1205
2-105 Kanda-Awajicho, Chiyodaku
Tokyo 101-0063 JAPAN
Tel: +81-3-5298-6552 Fax: +81-3-5294-3008
e-mail:keisen_tky@keisenassociates.com
About our Tokyo office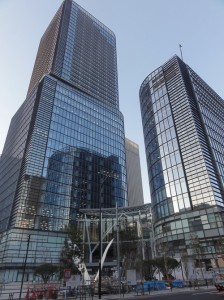 Tokyo, one of the world's most technologically advanced and populated urban centers, is home to Keisen Associates' main office. We are located in Chiyoda Ward near Meiji University, Tokyo Medical and Dental University, and other educational institutions, as well as the Imperial Palace grounds and the Confucius Hall of Yushima. The office is a short distance from the Supreme Court and the Tokyo High Court, where District Court patent litigation cases are heard, and from the Japan Patent Office. Here in Tokyo, our patent attorneys can have frequent exchanges with JPO officials at every stage of patent and trademark prosecution. Our Tokyo office works in every stage of Japanese intellectual property prosecution and litigation.
Philadelphia, PA, USA
Keisen Associates
(Omori & Yaguchi USA LLC DBA Keisen Associates)
8 Penn Center, Suite 1300
1628 John F. Kennedy Blvd.
Philadelphia, PA 19103, USA
TEL: 215-701-6349
FAX: 215-751-0192
e-mail: usmail@keisenassociates.com
About our Philadelphia office
Our U.S. office is in historical Philadelphia - the fifth largest city in the United States. Our location brings us close to many of our clients in the pharmaceutical and biomedical industries and allows us to tap into the wealth of resources offered by the university and research institutions in the area. The office's mission is to provide a "one-stop" filing service for all our non-Japanese clients' prosecution and litigation needs in Japan.
MAP